Have you ever wondered how salt is made? How is the salt making process, how long does it take? If yes, let's explore with Dr.Muoi about sea salt making through the content of the article below.
1. About making salt and salt
Salt making is associated with the salty taste of the sea and the salt people (the common name of people who live by making salt). As people often say: "Cheap as salt". Right! Since many other spices have been introduced, salt has become cheaper and cheaper. But salt people still cling to the sea to live, they cannot give up making salt.
2. Is the salt making process difficult?
The job of making salt is really hard, and the income is precarious. To make the grain of salt that you eat every day is not simple, it is the hard work of the salt people. The salt production process is very complicated, including many stages:
Step 1: Collect salt water level 2
Initially, salt people will soak sand in sea water, then pick it up and transfer it to dry on a clay court. Under the sun, seawater evaporates, leaving white salt crystals that recrystallize on the sand grains. The salt people continue to take salt water of degree 1, ie sea water, to pour into this sand layer and filter it to get salt water of degree 2.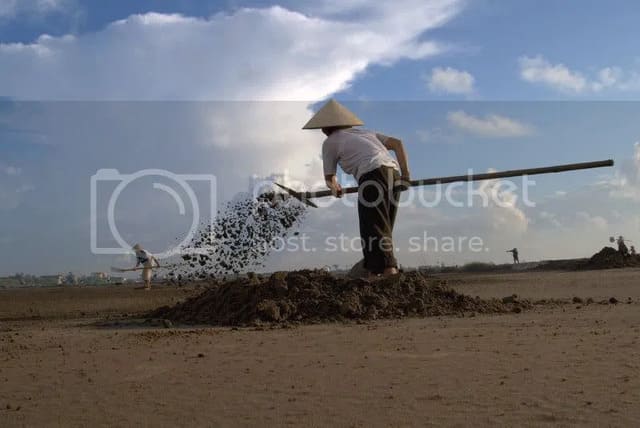 Harvesting salt in the salt fields by wheelbarrow
With this way of making sea salt, salt farmers have to wake up very early, be present in the salt field from 3 to 4 am to start drying sand and salt water level 3, until the afternoon can harvest.
The more sunny it is, the faster the water evaporates, the more salt is obtained. If it rains, salt production will be interrupted, even losing the whole working day. Therefore, salt farmers can only make salt on summer days, and in the rainy season, they have to do other jobs to earn income.
You Can Refer To More Articles:
Should I wash my nose with physiological saline?
Instructions for Self-healing Sinusitis with Physiological Salt Water
Tips for Treating Allergic Rhinitis with Physiological Salt Water Simple and Effective
Instructions on how to hydrate with salt water to treat bad breath